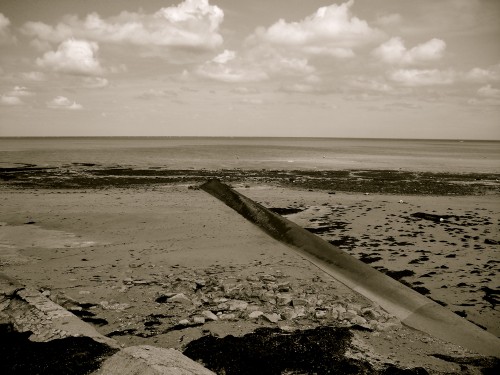 Normandy
Next we travelled to the Normandy coast
and to a town called Bayeux.
In Bayeux
there is a tapestry which depicts
events leading up to the Norman conquest of England.
Unfortunately, we did not see the tapestry—though
we heard it was nice. We went on a D-Day tour
and witnessed settings of events
that lead to the Liberation of France
nine hundred years later.
Beaches and bunkers.
That was cloud cover but sunshine,
it was and soon but and so on,
and it was sombre but it was whatever is
the opposite of sombre. Sort of like
moonlight or birds that do not fly.
There were these two idiots also on our tour.
One told us a bad joke about
the lion and the giraffe.
Following this he told a story where
he followed a cat into a bar.
We all thought he was telling
another joke but he really followed a cat into a bar
and nothing else happened.
Well, he took a picture, but we weren't that interested in seeing it.
The cat certainly did not order the drink that we did later that night;
a drink that the Normans said was called 'the ambush.'
The drink was true to its namesake, or else
maybe I could tell you what was in it.
It tasted just like ambush.
And then that night there were fireworks.